After attending the OFC Free Palestine Virtual Protest, Dee from Black Phoenix Organizing Collective (BPOC) reached out to collaborate. From there we quickly pulled together combining their next event Coffee & Convos. We invited members of the One Free Community People of the Global Majority (aka BIPOC) affinity group to join in the first hybrid meeting!
Coffee & Convos

About this Space:
This is a once a month event is hosted by BPOC. The space is meant to hold space for abolitionist workers, community organizers, and social justice producers. The conversation is to give space to process, grieve, and have communal self care where black and brown voices are amplified. Coloring books are provided for activate listening. This space will be PRIORITIZING Black and Brown voices.
---
Dec 6, 2023
Join us and @blmphxmetro for the end of the year coffee and convos. Our online crew @onefreecommunity will be holding it down virtually. Continue the conversation around self and community healing.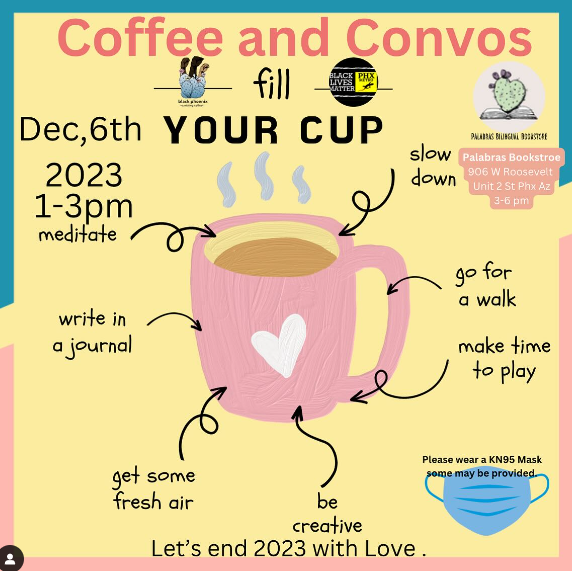 https://www.instagram.com/p/C0VVOv_rMNO/
---
Nov 2023 event
Topics Discussed:
Self Care
Processing Grief and Rage
How to stop feeling Guilt around resting
Radical Acceptance
Radical Love
Disability Justice
Celebrating Joy and Engagement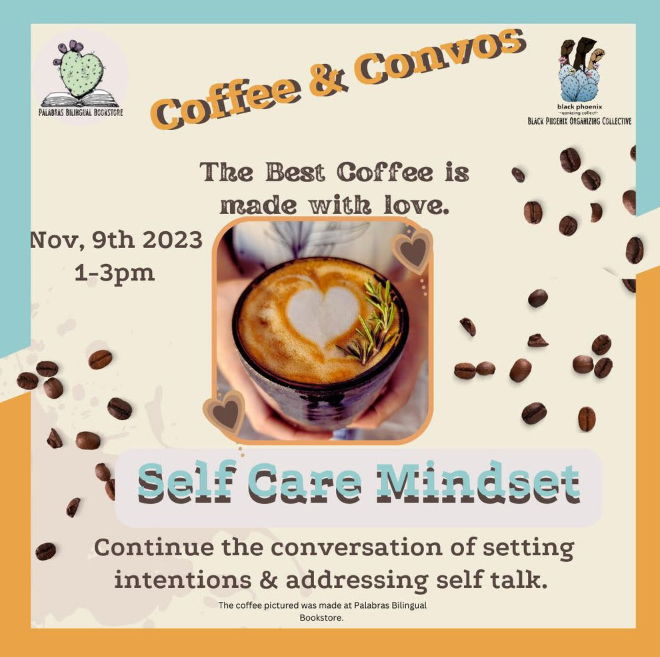 Black Phoenix Organizing Collective BPOC
Black Phoenix Organizing Collective (BPOC) is building a bigger, better, Blacker future in Phoenix.
We practice cultural organizing among inter-generational Black folks that centers queer and trans people, formerly incarcerated, disabled people, and Muslim immigrants and refugees.
We prioritize the needs of Black people through two programs: Disability Justice and Reproductive Justice.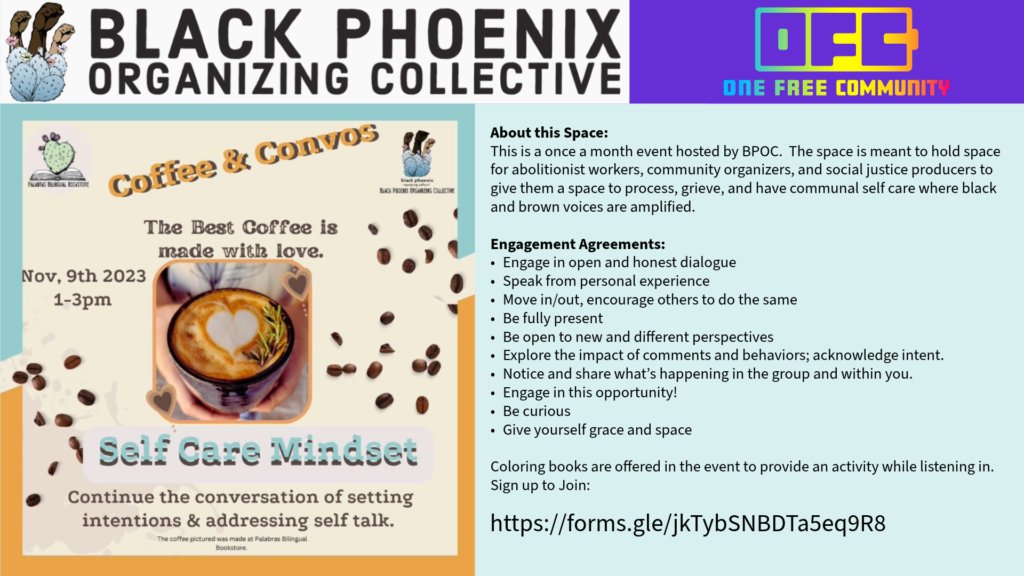 About One Free Community
One Free Community is A BIPOC- and neurodivergent-led, collaborative project working toward building the most accessible, functional, and inclusive mutual aid network the world has ever seen.
About the Author
Jesenia, a collaborator with Calling Up Justice and cofounder of One Free Community, is working to build a more equitable and inclusive world via collective action by building communities. Learn more on her Website or Read Jesenia's Bio.