Exciting News from OFC!
At One Free Community (OFC), we're all about inclusivity. That's why we're thrilled to introduce two new initiatives that aim to make our community even better:
1. Live Event and Channel Ratings System
We understand the importance of creating safe and enjoyable spaces for everyone in our community. That's why we've developed a new ratings system for our live events and channels. Now, you can easily find content that suits your energy and comfort levels. Whether you're looking for a relaxed atmosphere or an engaging discussion, our rating system ensures you have the information you need to make informed choices.
2. Trigger-Free Zone Flyer
Consent and respect are core values at OFC. To reinforce these principles, we've created the "Trigger-Free Zone" flyer. This visual reminder serves as a commitment to maintaining a supportive and respectful environment within our community. Look out for these flyers at our events and channels, and know that you're in a space where your boundaries and well-being are respected.
These additions reflect our dedication to fostering an inclusive and considerate community. We're excited to continue evolving and growing with your valuable feedback and ideas!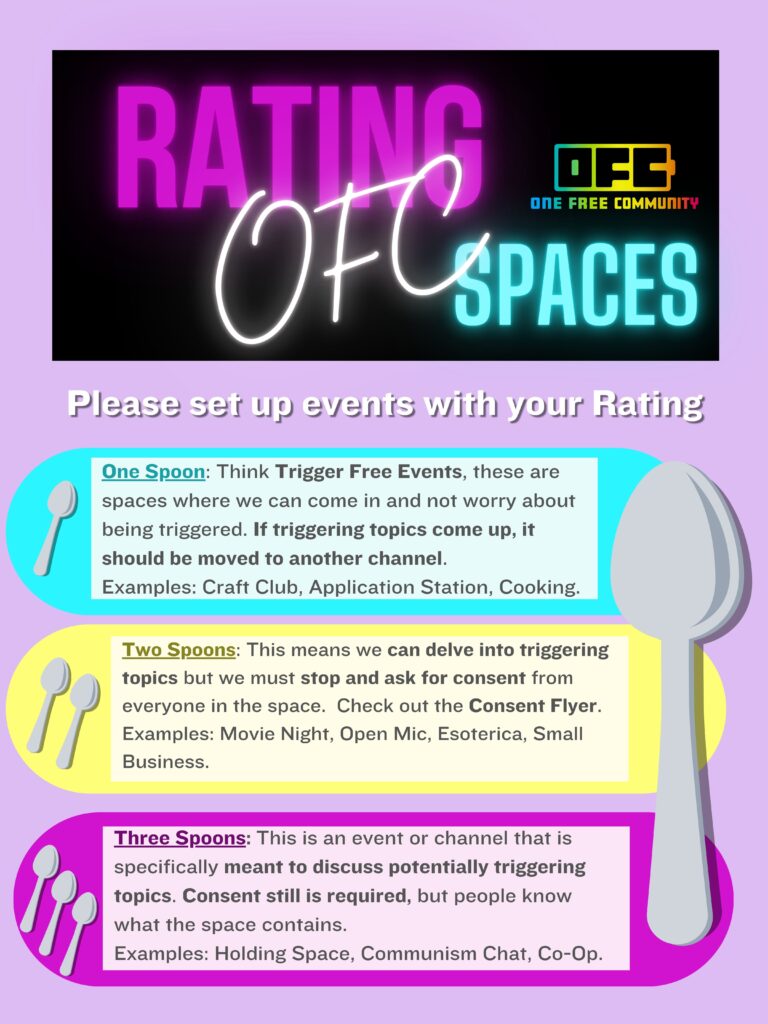 Visual Description Flyer 1: Purple background, Black background around title: Rating OFC Spaces One Free Community.
Rating OFC Spaces
Please set up events with your Rating
One Spoon: Think Trigger Free Events, these are spaces where we can come in and not worry about being triggered. If triggering topics come up, it should be moved to another channel. Examples: Craft Club, Application Station, Cooking.
Two Spoons: This means we can delve into triggering topics but we must stop and ask for consent from everyone in the space. Check out the Consent Flyer. Examples: Movie Night, Open Mic, Esoterica, Small Business.
Three Spoons: This is an event or channel that is specifically meant to discuss potentially triggering topics. Consent still is required, but people know what the space contains. Examples: Holding Space, Communism Chat, Co-Op.
Visual Description Flyer 2: Black background, Title reads Trigger Free Zone One Free Community Logo in the upper right corner. Text in colorful shape block below the title.
Trigger Free Zone
Please do NOT share Triggering Info. If you are in chat or in an event labeled Trigger Free, please do not share any triggering information. If you want to share something wonderful, just share the news, win, or victory without the context background if it contains triggering info.

Possible Triggers
SA, death, violence Terminal illnesses Animal cruelty/suffering Medical procedures Religious trauma BIPOC or racist trauma Toxic relationships Anti-queer/anti-trans ED and dieting Substance abuse, Addiction Abuse of any kind
About the Author
Jesenia, a collaborator with Calling Up Justice and cofounder of One Free Community, is working to build a more equitable and inclusive world via collective action by building communities. Learn more on her Website or Read Jesenia's Bio.