✊Recap: Thanks to everyone who joined our virtual protest on Nov. 24! 📲 Your digital presence helped redefine Black Friday, turning it into a performance of justice. 🌍✨
🔄 Take Action: Missed it? Check our linktree for resources and opportunities to make offers. Let's make Black Friday a day of conscious choices and positive change. 🌟
📲 Digital Protest Highlights:
Join From Home: Engage digitally if you couldn't be there in person. 💻
Like, Comment, Share: Your interactions amplified our message. 🔄❤️
Moderate and Engage: Special thanks to those who boosted creators advocating for justice! 🚀🎙️
🚀 Looking Forward: "Make Black Friday Red" is a movement. Let's keep them in the RED and make mindful consumption a norm! 🛑💚
#MakeBlackFridayRed #ConsciousConsumption #CommunityAction
Featured in Newsweek
Pro-Palestinian Groups Mobilize on Black Friday for Cease-Fire
Shut It Down 4 Palestine, Calling Up Justice, and One Free Community, organized Black Friday protests calling for a permanent ceasefire in Gaza. The collective effort seeks to urge the US to cease its involvement in what activists term the genocide of Palestinians. Claudia Alick highlighted the success of their recent digital protest, with over 500 participants. We aim to amplify the voices of Palestinians and demand an end to U.S. funding of Israel, holding it accountable for human rights violations.
Read the original statement we submitted to Newsweek about our Make Black Friday Red event:
Make Black Friday Red is part of our commitment to empowerment and wealth retention within our communities. We prioritize purchasing second-hand items, shopping local businesses, and practicing mutual aid whenever possible instead of buying from big businesses. This conscious choice aims to strengthen our local bonds and prevent the flow of wealth into the corporate hands that are actively funding or complicit in, genocide and the suffering of our fellow humans.

There is also a troubling gap between the people and the elected officials meant to represent us. Despite overwhelming public support for a lasting ceasefire in Gaza and the West Bank, our voices remain unheard. Our representatives have made no acknowledgment to represent the will of the people, instead of choosing to side with the corporations that benefit from all forms of exploitation. Make Black Friday Red serves as our message to both politicians and businesses: we refuse to be complicit in funding the ongoing massacres. Our movement stands in unwavering solidarity with global workers organizing for their rights.

We join hands with them in their struggle. We protest and boycott unethical business practices that perpetuate the ongoing occupations in Palestine, Congo, Sudan, Tigray, and beyond. Make Black Friday Red is a call to action to shed light on these issues.

Our vision is to create mutual aid within our communities and work together for the liberation of all. Our modern comforts and technological advancements should never override people's humanity, autonomy, or lives, but politicians and corporations have disregarded our voices. The good news is that we can vote with our dollars. We will seize their attention through our intentional spending choices. Let's keep them in the red. Refusing to fund genocide is our collective stand!

One Free Community Members

https://www.newsweek.com/pro-palestinian-groups-black-friday-boycotts-1845937
---
Archived Invite Language:
In Person Actions!
This Thanksgiving we're grateful for our empowering initiative, "Make Black Friday Red"! 🛒🚫
🌈 What is Black Friday, and why is it bad? Black Friday, notorious for its consumer frenzy and wasteful excess, symbolizes a race to the cash register that often leaves us with more items than meaning. At One Free Community, we recognize the negative impact it has on our wallets, the environment, and our collective well-being.
🌍Inclusive Mutual Aid Networking One Free Community, a BIPOC & neurodivergent-led hub, is spearheading a revolutionary movement to redefine the way we approach Black Friday. "Make Black Friday Red" is not just a call to action; it's a performance of justice. We're dismantling the traditional narrative and encouraging a shift towards mindful consumption.
🔄 Take Action Now! Ready to be part of the change? Click on the linktree below to access a wealth of resources, opportunities to make offers, and connect with like-minded individuals. Your small actions can make a big impact, and together, we can make Black Friday a day of conscious choices and positive change.
This year let's keep them in the RED! Let's stop giving money to corporations to fund these atrocities!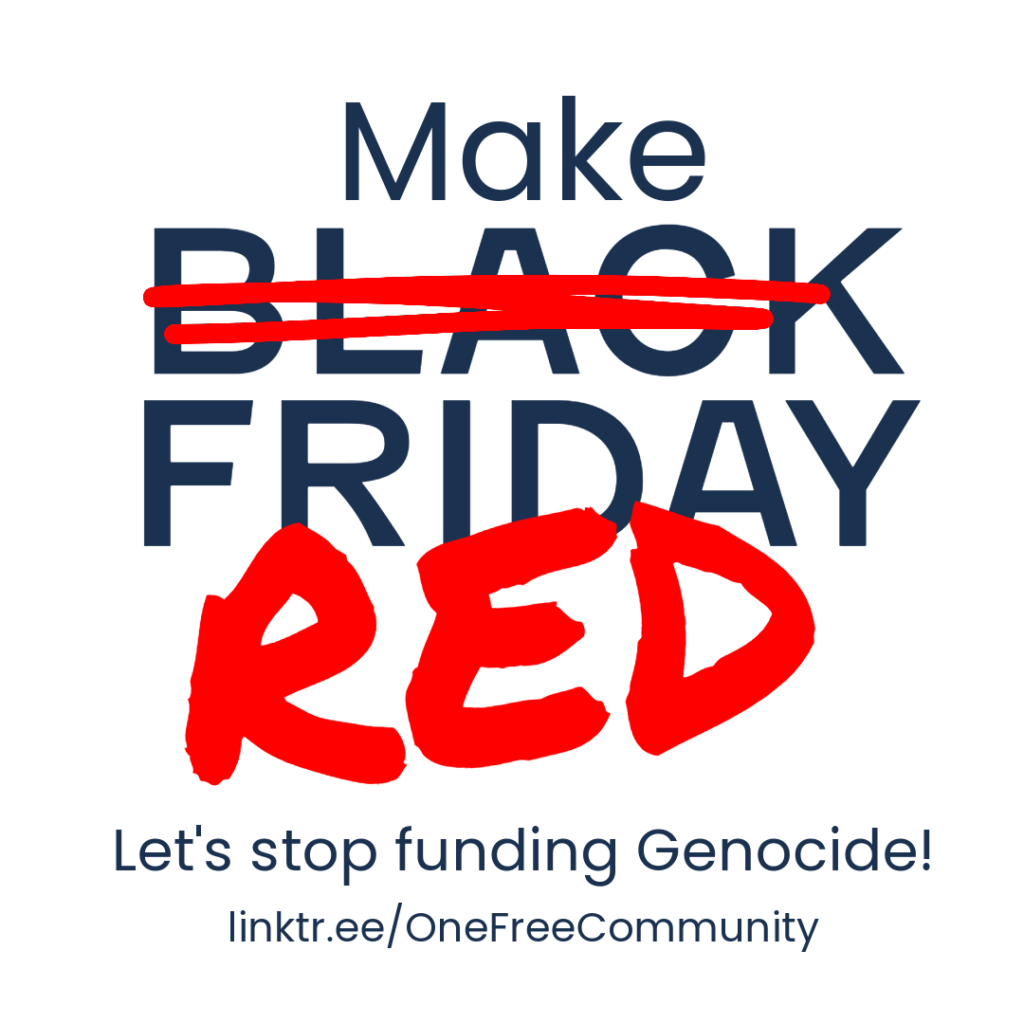 If you have groups, websites, or organizations to add to the list of alternatives to shopping for Black Friday, the Submission form is linked in the button above.
🌐 Join the One Free Community VIRTUAL Protest on Nov. 24!
📲 Not everyone can join in person due to financial, safety, or accessibility reasons. So, we're hosting a digital protest! Like, comment, and share from home. Engage in a Community LIVE rush to boost creators advocating justice. Enjoy group calls to action and watch your favorite content creators talk about activism! Join us on TikTok LIVE @ 2pm PST / 5pm EST. "Make Black Friday Red" isn't just a call to action; it's a performance of justice. Let's shift towards mindful consumption and keep them in the RED! 🚫✊
How it works!
Join protest from home on your phone or computer
Like, comment, share
Moderate if you can!
Community LIVE rush (supercharge a creators page with LIVE engagement)
Group calls to action!
Watch your favorite content creators talk about activism!
Join us on TikTok LIVE on Nov. 24 @ 2pm PST / 5pm EST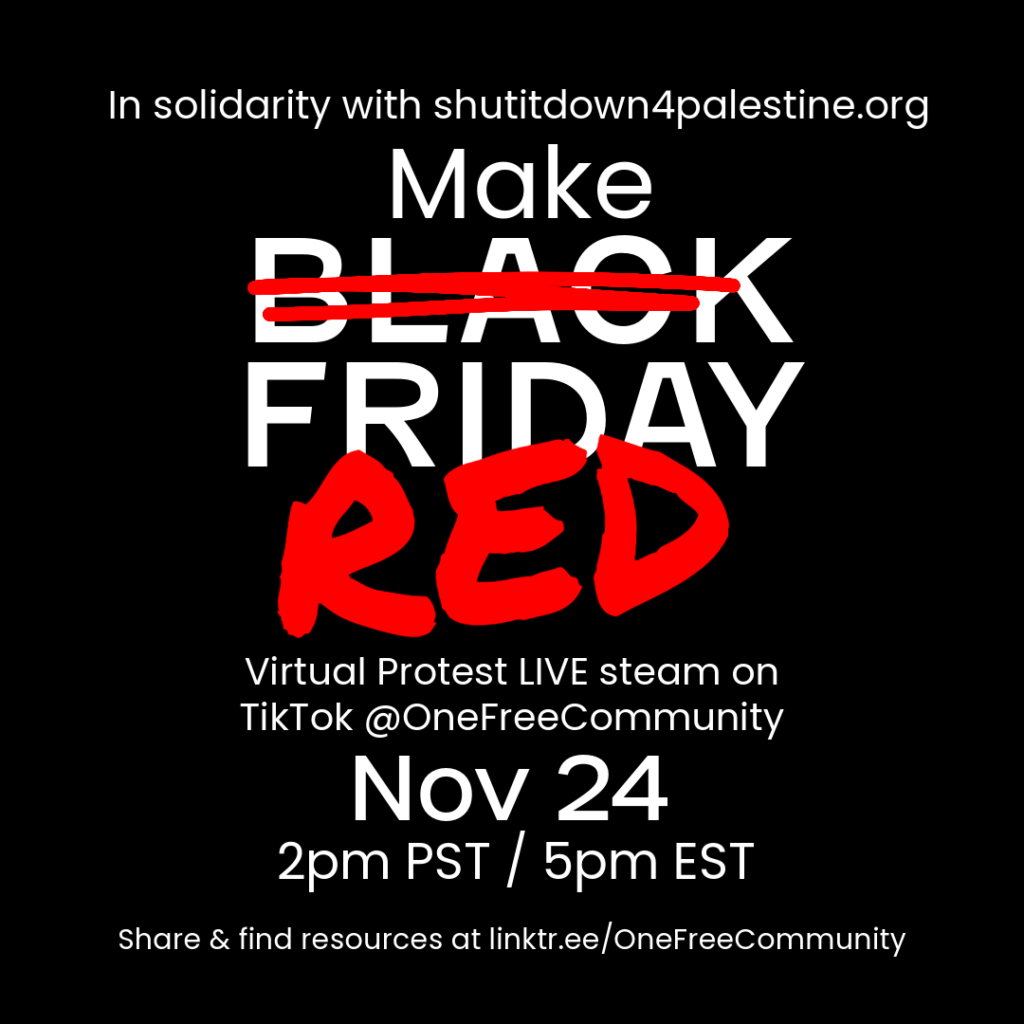 Let's keep Black Friday in the RED! Let's stop giving corporations funds and instead celebrate community, sustainability, and justice. Join One Free Community in making a difference today! 🌱🌍 #MakeBlackFridayRed #OneFreeCommunity #JusticeInAction