The Civic Media Fellowship, based at the USC Annenberg Innovation Lab with amazing support from the John D. and Catherine T. MacArthur Foundation, empowers artists, creators, storytellers, organizers, and others working at the intersections of media, technology and culture to further hone their practice through 9 months of exploration and collaboration with a dynamic, diverse, and amazing cohort of Fellows.
The Civic Media Fellowship supports participants as they level-up existing skills and develop new ones, build shared capacity for social and community impact, and have a positive impact on the world locally, nationally and globally. These new leaders and the resources we develop collectively to empower them also help to strengthen and expand the field of civic media—the use of today's technologies to create and harness media that connects with communities, inspires action, builds civic capacity and helps sustain social change efforts—by pushing the boundaries of what it can be.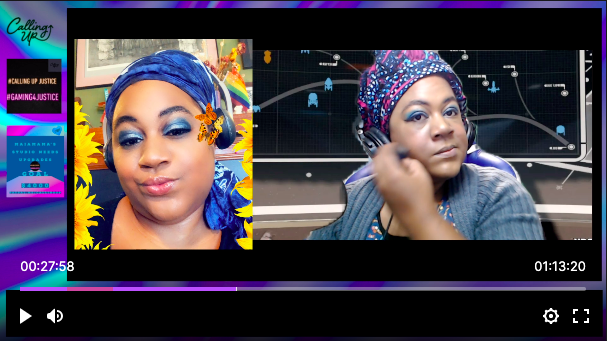 Gaming4Justice a Calling Up Justice project focused on pleasure activism and co-learning currently features MaiaMama and her Can You Survive a Racism original video games. She codes and brainstorms scenarios live with her audience. She will be presenting this practice to the Civic Media Fellowship 2022 cohort in November 2022.