What the F* is up with Arts Fundraising?
F* THE GALA has been our year-long digital performance and social experiment around arts fundraising designed and led by Claudia Alick. Folks are experiencing liberating exploration of decolonizing wealth, critiquing toxic philanthropy, and analyzing our performance in the arts fundraising ecology. We received anonymous contributions of ideas from Fundraisers, Donors, and also artists. We have had special guests witness and contribute to artistic and thought provoking offerings throughout the year that resulting in a culminating event and report to the wider national arts community.
We asked you: When did you first realize you wanted arts fundraising to change?
Why are funders as frustrated as artists when it comes to challenges in equitably distributing resources? Is a fancy party the best way to get resources for artists? Are the ways we design and distribute grants effective for the community? What are the most dynamic ways we have been creating racial equity?  How do we include Disability Justice and accessibility into our processes?  What do we never want to do again?  How can we Decolonize our fundraising processes?  Want to find answers to these questions?
These word clouds were generated from responses to our performative type forms. These video game style modules were designed by an ensemble of artists in the fundraising jams with the Calling Up Justice Practice and resulted in outputs like prompts for conversation, artwork, and further design of the final event. Thanks to Carlos Johns-Davila, Jonathon Paradox, Jessenia and MaiaMama for joining in design.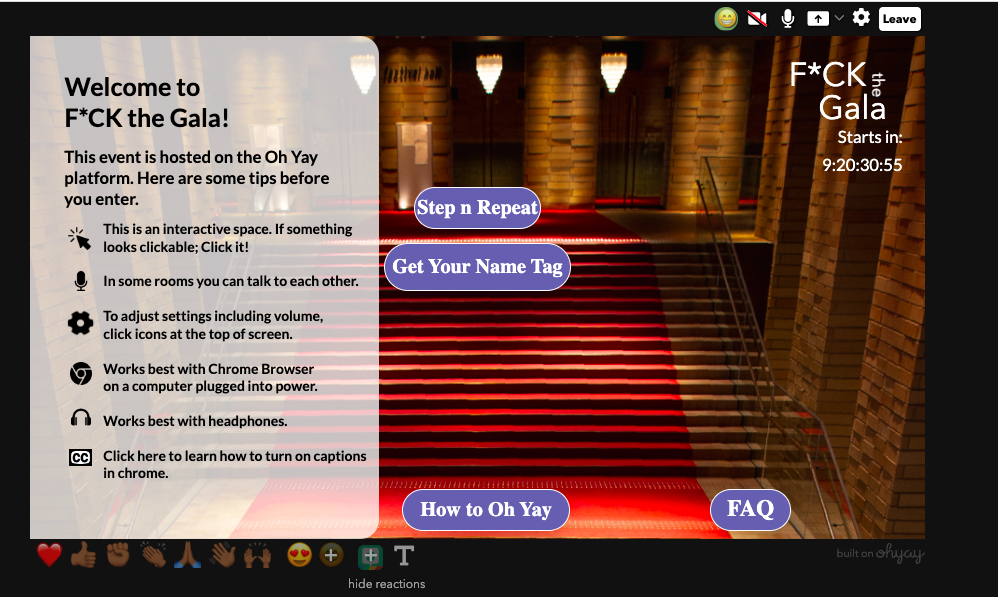 F* the Gala SATURDAY DEC 10 2:00 PST
The F the Gala event was a virtual program Saturday December 10 2:00 PST that aimed to reimagine the traditional gala fundraising model and promote accessible, inclusive, and equitable practices. The event featured a lobby with classical music and directions for navigating the virtual space, a help desk with a real person to offer advice and support, a reception room for opening and closing remarks, and a name tags room for sharing contact information.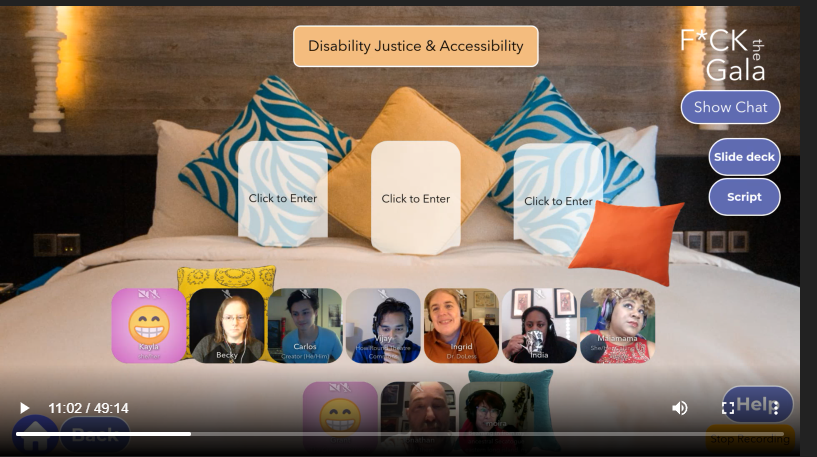 Attendees could also visit the step and repeat room to take a photo with a phrase about their feelings on fundraising, the quiet room for relaxation and meditation, and the media room to watch videos on decolonizing wealth, racial capitalism, mutual aid, and healthy art fundraising techniques.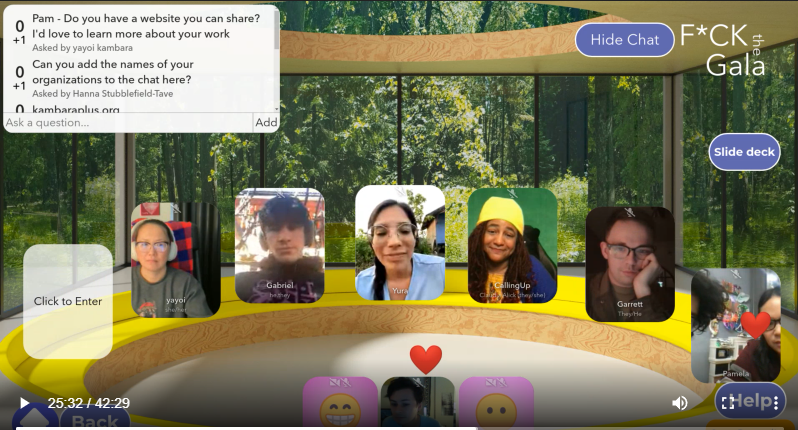 The event also included three salon rooms – Cripping the Gala, Decolonizing the Gala, and Humanizing the Gala – which featured discussions on logistics, accessibility, and generating ideas for inclusive fundraising. The event concluded with a closing session where all attendees shared the ideas generated in the salon rooms and celebrated with digital cake.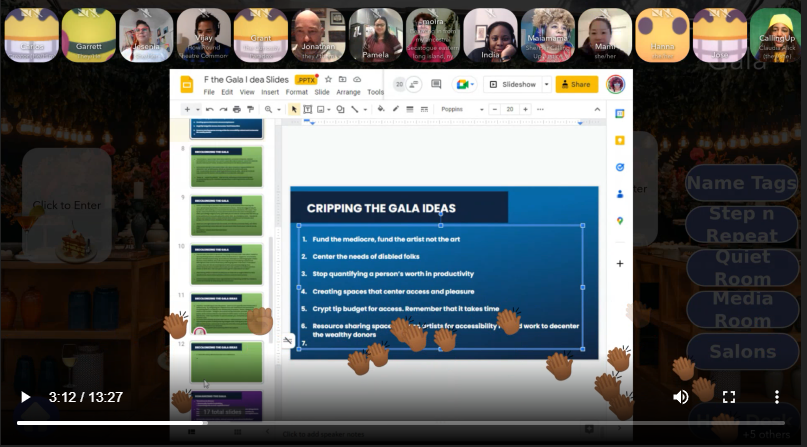 Thanks to Carlos Johns-Davila for digital event design inside the Oh Yay space. Thanks to Jessenia and MaiaMama for faciliattaion. Thanks to the many participants over the year who provided amazing text responses that fed the conversations in the room. Thanks to all who made offerings such as videos, music, visual art, scripts, and artistic practices. Thanks to all the people representing the communities of donors, funers, development staff, and artists who participated in the F the Gala event on Dec 10.