Experiments in Art, Access & Technology, or E.A.A.T. chronicles the emergence of access as an animating principle of art, science, and technology. Invoking the field's ethos of experimentation and collaboration, E.A.A.T. prototypes a new program that links communities, institutions, and ways of knowing through practices of creative access. The E.A.A.T. exhibition introduces methods in art and technology that arise from—and viscerally embody— lived experiences of disability. Meesh Fradkin, Carmen Papalia, Josephine Sales, Andy Slater, and Olivia Ting premiere new work developed in the Leonardo CripTech Incubator, an art and technology fellowship for disability innovation. These works span spatial audio, surveillance technologies, gaming, haptics and auditory prostheses. E.A.A.T. artists deploy access as a creative form, an emancipatory tool, and an experiential technology for sustaining community.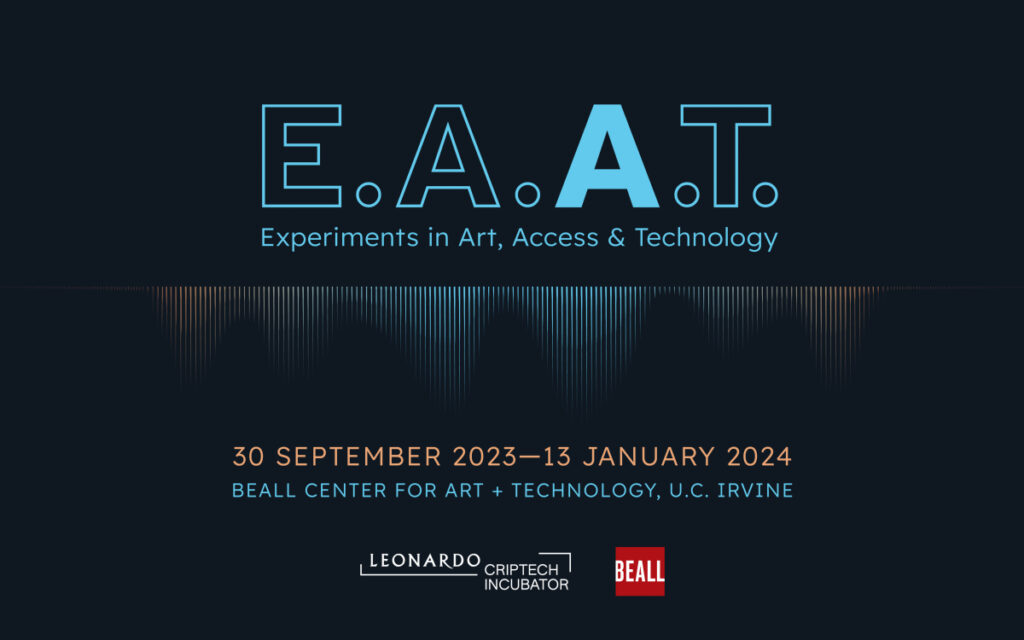 Dates: September 30, 2023 to January 13, 2024
Opening Reception:  September 30, 2023 – 2:00pm
Press Release: 

 Download Press Release (203.03 KB)
Artist: Meesh Fradkin, Carmen Papalia, Josephine Sales, Andy Slater, Olivia Ting
Organized by Leonardo/ISAST
Curated by Vanessa Chang and Lindsey D. Felt
Program curated by Claudia Alick
Accessibility and Beall Center for Art + Technology
"For most of us, technology makes things easier. For a person with a disability, it makes things possible."

–Judy Heumann, Disability Rights Activist
The mission of the Beall Center is to support research, exhibitions, and public programs that explore new relationships between the arts, sciences, and engineering, and to promote new forms of creation and expression using digital technologies. Located within UC Irvine's Claire Trevor School of the Arts, The Beall Center for Art + Technology, they seek to revolutionize the museum/gallery experience by addressing how technology can effectively shape interdisciplinary art. Additionally, it aims to facilitate artist-audience connections.
Commitment to Accessibility
UC Irvine is committed to creating and maintaining an environment that is accessible to all members of the UCI community. For more details, refer to the School of the Arts' Accessibility and ADA Information page. https://www.arts.uci.edu/ada
For comprehensive accessibility information on this exhibition, please visit the E.A.A.T site.
https://beallcenter.uci.edu/exhibitions/eaat-experiments-art-access-and-technology
https://leonardo.info/criptech/eaat/
For further inquiries, reach out to the gallery directly at:
Beall Center for Art + Technology
712 Arts Plaza
Irvine, CA 92697-2775
949-824-6206
[email protected]
Report a concern here: https://accessibility.uci.edu/reporting.php
Download the Press Release Here:
---
Image description: The letters E.A.A.T. are outlined in blue aside from the second A, representing Access, which is filled in with a bold blue. Under the acronym are the words Experiments in Art, Access & Technology. This text is underlined by sound waves of varying amplitude. Tinged in blue and orange, the waves reverberate and fade into the black background.
Image description: Against a black background, gestures of three overlapping figures (a pianist , a conductor, and a signer) echo, overlap, and blur into each other. White italic letters of various sizes explode across the image.