The 2020 FoolsFury Festival was set to be curated by Claudia Alick. The Pandemic inspired swift closures and an end to the in person festival and the birth of BUILD a digital convening for ensemble theater makers.
Under the new leadership of Artistic Director, Debórah Eliezer, and alongside Guest Director Claudia Alick of Calling Up Justice, foolsFURY Theater is gathering the field of ensemble theater makers in a digital convening. True systemic change takes all of us. Let's change our field at its foundational core. Let's consider how real change takes time, resilience and iterative, long-term commitment: all characteristics exemplified in ensemble theater practice.
BUILD From Here is a two-day event featuring workshops, artistic presentations, and panels designed for artists, activists, culture workers, educators, theater professionals, and anyone interested in building effective and long-lasting systemic change. Each session offers tools, resources, and participatory dialogues centering racial justice, labor and finance reform, design and technology, education, and seldom-told stories. Connect, learn, laugh and relate. Chill out in our digital lobby. Registration gives you greatest access. How will we shift our design blueprint to embed racial justice in everything we do? Together, we will create an arts ecosystem worthy of us all. Are you ready? Let's BUILD!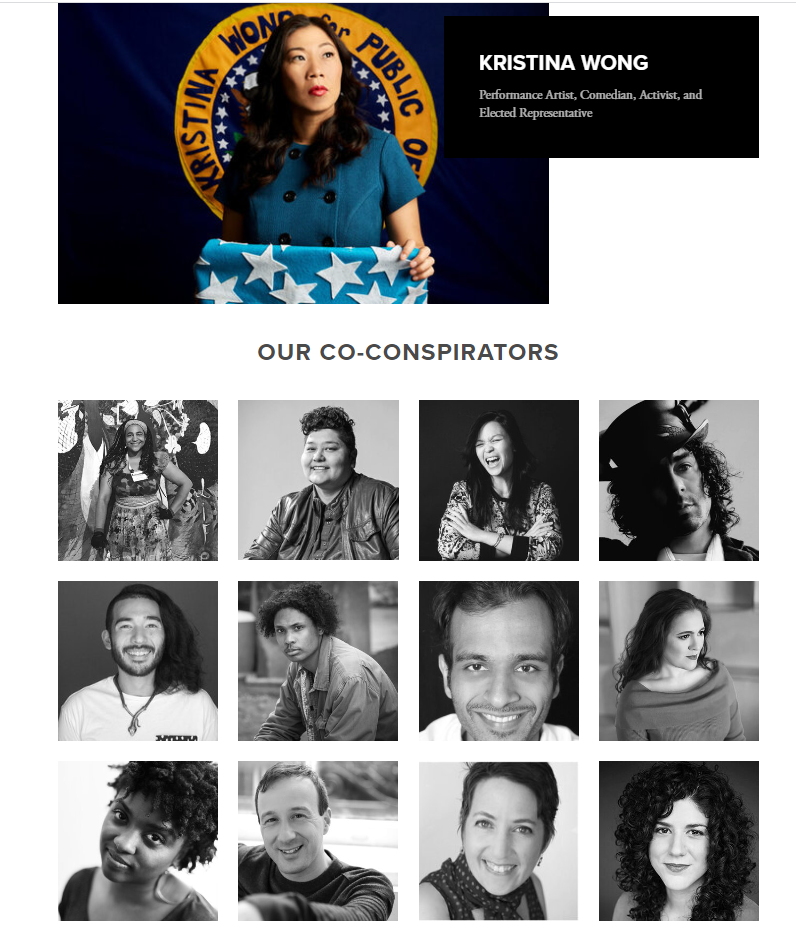 https://www.foolsfury.org/speakers-facilitators
PANELS & DIALOGUES
KEYNOTE: KRISTINA WONG
How can we use art and humor at the heart of civic practice? As a comedian, playwright and elected member of council for her neighborhood in Koreatown in Los Angeles, Kristina Wong uses her dynamic skills to serve the community across multiple civic platforms.
At the beginning of the Covid-19 epidemic, Wong instigated the Auntie Sewing Squad. Today, more than 300 "aunties" are still making free masks, (70,000 and counting) with a focus on helping vulnerable communities such as migrant workers, day laborers, people being released from prison and Native Americans who live in isolated areas. SEPTEMBER 12 // 10:00am – 10:20am
STRENGTH THROUGH ALLIANCE: CULTURALLY-SPECIFIC ORGANIZATIONS
How does the work of culturally specific membership organizations and alliances support the field by supporting BIPOC Community? We will hear from a selection of artists and organizations on how they're working to create greater visibility for their community. SEPTEMBER 12 // 1:00PM – 2:00PM
AESTHETIC EQUITY IN ENSEMBLE THEATER: THE FOUNDATION IS RACIAL JUSTICE
Hosted by the Network of Ensemble Theater, facilitated by Alison De La Cruz
An interactive roll-up-your-sleeves discussion bringing together the entire field of ensemble theater to envision ways to implement long term systemic change. How will aesthetic equity practices affect casting, our ensembles, our boards, how we tell stories and with whom?
SEPTEMBER 12 // 2:30PM – 3:30PM
LABOR ETHICS & FINANCE REFORM: NEW MODELS FOR A NEW ERA
Panelists: Pamela Capalad of Brunch & Budget, Amy Smith & Daniel Park
Are we beyond the nonprofit industrial complex? How about co-ops? And What about new types of unions? The new world we envision requires new systems for how we understand and distribute power through wealth. Our panelists will share history, new models and ways to work within our organizations to open doors to new ideas. SEPTEMBER 13 // 10:00AM – 11:00AM
PRODUCING IN PANDEMIC: TRANSMEDIA & LIVENESS
Leaders using anti-racist and decolonized models in both digital and physically embodied artistic production spaces. How is technology being used as a collective space for decolonization? Panel of folks who are using the digital landscape to transform the industry of theater / ensemble theater to make it not only accessible, but an alternative theatrical space for BIPOC narratives. SEPTEMBER 13 // 2:00PM – 3:00PM
MICROTURGY
LMDA's long-time partnership with foolsFURY sparks two brand-new art forms we call Microturgy and Art Shares, both newly invented for BUILD from Here: The Future of Ensemble Theater. From a global applicant pool of over 60 dramaturgs, 17 dramaturgs ("Microturgs,") have been matched with 18 BUILD ensemble theater companies, to connect as new colleagues & to provide dramaturgical support. While BUILD companies dreamed up their Art Shares, Microturgs conversed with the artists and created Word Clouds in response to their work. Each Microturg is featured at the end of their company's Art Share, with a digital BUILD Microturgy Calling Card and a showing of the Word Cloud. Be sure to tune in to all six sets of Art Shares throughout the convening!
Why this partnership?
FoolsFURY has long been interested in the evolving role of dramaturgy in the model of ensemble theater. As a result, the company created an ever-evolving partnership with LMDA (Literary Managers and Dramaturgs of the Americas) to provide dramaturgs for the works-in-progress series of their bi-annual ensemble theater festival. When FURY Factory 2020 was postponed, foolsFURY and LMDA decided to keep the collaboration going for their fifth time for BUILD. Claudia had exciting design ideas around short form work. The online nature allowed us to think bigger (and more micro) than ever before. We could match companies with dramaturgs from around the globe, and open up the pairings to both Mainstage and Raw Materials shows. We could ask BUILD companies to share brief presentations of themselves in terms of what would have been, what is, and what will be. We could ask Dramaturgs to make creative contributions and have small moments of celebration for their work. And thus, Art Shares and Microturgy were born!
The LMDA partnership with foolsFURY is led by Nakissa Etemad (LMDA's Regional VP Metro Bay Area) and Debórah Eliezer (Artistic Director of foolsFURY). BUILD Microturgy is produced by Nakissa Etemad and our LMDA Microturgy Facilitator Emily DeDakis. Microturgy Calling Cards, shown in each Art Share, are designed by Lindsay Barr. Thanks to Claudia for her creative vision behind this concept.
LMDA (Literary Managers and Dramaturgs of the Americas) is proud to partner for the fifth time with foolsFURY. LMDA, now in its 35th year, is the North American service organization for the professions of dramaturgy and literary management. In ensemble settings, dramaturgs often use research and formal analysis to help the ensemble identify and refine the structure, theme, and in some cases, the narrative of the work that the ensemble is creating. Dramaturgs also create conversation about the piece inside and outside the rehearsal hall via in-house and public forums, such as talkbacks, and articles about the work. For more information on LMDA and dramaturgy, visit www.lmda.org.
BUILD FROM HERE ART SHARES
Throughout our two days together, we will be featuring Art Shares: 5-minute interdisciplinary snapshots of the diverse artists who would have been our FURY Factory 2020 cohort. Each company will present sneak peeks of their present and future projects and their vision for the future of ensemble theatre-making. Plus, through our longtime partnership with LMDA, we coined "Microturgy", a rapid, tiny new model of dramaturgical collaboration. One Microturg was matched with each Artist/Company, acting as a listening ear, a fly on the wall, or a collaborative thought partner. Each Art Share will include the Microturg's Word Cloud inspired by their engagement with the Artists.
Debórah Eliezer, Katie Pearl / foolsFURY
Art Share featuring The Library Project
Microturgy by Ellen Morgan Peltz
Ross Beschler
Art Share featuring Dead
Microturgy by Lucy Powis
Julius Rea, Kieran Beccia / The Forum Collective
Art Share featuring Ether
Microturgy by Merlin Simard

Dyalekt, Pamela Capalad / The Museum of Dead Words
Art Share featuring The Museum of Dead Words
Microturgy by Daphnie Sicre
The Museum of Dead Words is an interactive hip-hop theatre experience exploring communication in the age of the internet. Dyalekt spent 2016 reading online article comments and began screenshotting and archiving words that were repeatedly used (and misused) to shut down conversation narrowing them down to 11 words.
Zac Jaffee, Zahydé Pietro, Jerry Soto / Téatro Theatre Group
Art Share featuring Mission San Raphael (Casa Mañana) – Microturgy by Adrian Centeno
A couple AirBnbs a room in their New York City apartment to a curious occupant who feeds them tall tales of the old west, Kit Carson, and a dilapidated Spanish Mission in San Rafael, California. While they take in the stories and argue about movies, religion, race, and honor, the ghosts of ancestors from Puerto Rico and Italy are cooking up something mysterious in the boarded-up restaurant underneath them.
Yvonne Montoya / Safos Dance Theatre
Art Share featuring Stories from Home – Microturgy by Liana S. Irvine
A work-in-progress dance theatre piece choreographed by Yvonne Montoya in collaboration with dancers. Featuring an all Latinx cast, "Stories from Home" centers Latinx bodies, aesthetics, and experiences from the U.S. Southwest, a series of movement vignettes inspired by oral histories collected from Montoya's older female family members.
Anita Hollander / November Productions
Art Share featuring Spectacular Falls
Microturgy by Anne-Charlotte Hanes Harvey
Jenny Isenberg / 13th Floor
Art Share featuring Space Pilots in Spaaaace!
Microturgy by Beatrice Basso
Michelle Haner / Blue Monkey Works
Art Share featuring Antigone 2021
Microturgy by Jihye Kim
Baba Israel, Grace Galu / Soul Inscribed and Collaborators
Art Share featuring Cannabis! A Theatrical Concert
Microturgy by Zachariah Ezer
Pratik Motwani
Art Share featuring The Long Way – Microturgy by Liam Rees
The Long Way combines shadow puppetry, physical theatre, and storytelling and plunges deep into themes of immigration, belongingness and the conflict between the boundaries of personal identity and our longing for total inclusion.
Gayle Fekete / Fekete Projects
Art Share featuring Ready Aim Fire, and Other Survival Strategies for the 21st Century
Microturgy by Tabitha Chester
Lacresha Berry / Berry and Company
Art Share featuring TUBMAN – Microturgy by Deitrah J. Taylor
TUBMAN is the story of Harriet Tubman reimagined as a young woman growing up in Harlem. This play takes the story of Harriet in the 19th century and places her in the 21st century; laced with the problems facing African-American youth all over the country. And especially focusing on the mistreatment of black girls in schools.
Anita Marie Holland, Rebecca Wright / Applied Mechanics
Art Share featuring THE COLONIALISTS
Microturgy by Dr. Sarah Sigal
Timiki Salinas / The Bellwether Theatre Project
Art Share featuring Dr. Rees Ziti's Pageant For A Better Future
Microturgy by Linda Lombardi
Ryan Hill / Marzipanik and Sandbox Theatre
Art Share featuring The Portrait
Microturgy by Gavin Witt
Rebecca Deutsch
Art Share featuring LUZ
Microturgy by Vidhu Singh
Ayodele Nzinga / Lower Bottom Playaz
Art Share featuring Scars
Microturgy by Tabitha Chester
WORKSHOPS
BIPOC ANTI-RACIST ACTION CIRCLE
Hosted by BUILD Artist cohort members
A space for BIPOC artists and activists to gather, dream, organize and draw strength. More details TBD.
SEPTEMBER 12 // 10:50PM – 12PM
WHITE ANTI-RACIST ACTION CIRCLE
Hosted by Theatre Bay Area
This dialogue will support efforts to undo oppressive systems, and identify white supremacy culture and anti-blackness in ensemble theaters. The panel is led by and specifically addressing strategies for white and white-passing people.
SEPTEMBER 12 // 10:50PM – 12PM

THE NEW COMMON SENSE: USING ART TO BRIDGE THE RACIAL WEALTH DIVIDE
with Brunch & Budget's Pamela Capalad & Dyalekt
Art, media and culture perpetuate the racial wealth divide. Silence around money perpetuates a status quo that is decidedly exclusionary. When we don't talk about our rates, when we don't demand our rates, we leave our peers guessing and everybody's rate goes down. We lose negotiating power and ultimately creative control. This is how art loses its voice. We will frame how historical policies and events created and continue to widen the racial wealth divide, and how it is the keystone of overall wealth inequality. Artists, through ignorance, avarice, or apathy have played a role in turning snake oil to common sense. It's time to build something new.
SEPTEMBER 13 // 12:20 – 1:50PM
OPEN SPACE / NETWORKING
POWER OF COMMUNITY: MEET YOUR SERVICE ORGANIZATIONS
Hosted by NET, TBA, LMDA, & TCG
Meet our partners and co-conspirators. Learn more about the different membership & art service organizations around the country. This is an open space for you to network, ask questions, and get more information on how you can be involved.
SEPTEMBER 12 // 3:50pm – 4:50pm
DIGITAL LOUNGE
Hosted by foolsFURY
We've partnered with Hopin to give you the best interactive virtual experience. It's the live conference experience you'd expect without the technical difficulties. Using our digital conference platform, you'll have the chance to chat, connect, and network with other theatermakers, cultural workers, and theater professionals.
SEPTEMBER 12 // 9:00AM – 9:15AM
SEPTEMBER 13 // 9:00AM – 9:30AM