🏳️‍🌈 Are you frustrated by the inability to attend Pride events in person due to a lack of masking in your communities?
🌈 That's why we produced Accessible Virtual Pride Celebration: Uniting Covid Cautious LGBTQ+ and Allies!
🗓️ Date: July 2, 2023 🎉 Produced by: Calling Up Justice and One Free Community
July is Disability Pride Month! What better way to celebrate LGBTQ+ Pride and Disability Pride with an Accessible Virtual Pride!

We had an amazing Accessible Pride Celebration Sunday July 2 with over 300 participants. Our full day of activities included Open Mic, Discussion for Trans Joy, Energy Hygiene, Building Inclusive Communities, Storytelling for Kids, We Charge Genocide TV Hackathon and Fiber arts, Black Kink in the Park, Arts and Crafts, Queer Storytelling, Get Ready with me and Queer History.

Our livestream featured music, inspiring speeches, reports from our day full of amazing activities and participatory art making. Live-stream included tech support from Luticha and Maiamama, and performers Love the world builder, Haley Soloman, Claudia, Jesenia, Imani Barbarin, Anna Marie, Whitney, ChrisTiana ObeySumner, Rome, Drag King Indecent Montoya, Elizebeth, Ohio Student Activist Alliance River and Garrison, Beatrice Thomas, Skully, Irina Rivkin, Megan and Jasmine Sherman with ASL from performance interpreters Ghostlight. Post Show Dance Party with DJ Rosez.

This was a huge undertaking and such a joyous success. We're all so grateful to everyone involved!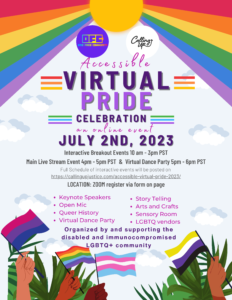 🎊 Our event was organized by us, for us – the LGBTQ+ and disabled community. Drawing inspiration from the story of "Stone Soup," we created something incredible without any funding. Everyone involved volunteered their time and talents to make this celebration a reality.
Click the above heading to open full clips of speeches on twitch or watch this 17 min edit of youtube below.
2023 Virtual Pride Vendor Booths
Click the above heading to open link and view the full Virtual pride schedule there. Scroll below to read more about the virtual pride activities and the people involved!
Open Mic Artists!
Host – Eliz, @ElizebethTurnquist, www.elizebethturnquist.com, Poetry
Crystyle, @eclecticarrayofinterests
Haley Slamon, @slamoncreations, Music
Love, Builder of Worlds, https://m.soundcloud.com/lovebuilderofworlds, Poetry and Music
Maria, @popculturemaria, Poetry
Cassandra, Poetry
Ama Rose, https://amadorseyblog.wordpress.com, Poetry
Luni, instagram @moonytoonz_art or @marjos_onevision, Art share with audio description
Nina, Insta: @sickness.society, Paint Pour demo and Art share with audio description
Salem Sage, Music
Jaz, Art share with audio description
Irina Rivkin, and others! Join the collaboration group by clicking this link
We Charge Genocide TV Hackathon + Fiber Arts
Host – Claudia Alick @ClaudiaAlickLove
In this room we knitted, crocheted, and engage with other soothing fiber arts activities while we discussed the ongoing genocide of QTBIPOC and Disabled people. We gathered resources that speak to the injustice and discussed ways to resist. We posted these resources and ideas to the We Charge Genocide TV website. It was a very inspired and actided session.
Discussion on Trans Joy
Host– Anna Marie @ThatAnnaMarie
In this safe space for trans, non-binary, and gender nonconforming people Anne Marie invited everyone to be joyful together. The structured conversation shared ideas about joy, connection, and more.
Queer Storytelling
Host – Skully @SkullnCajons
Black Kink In the Park
Host – Jax @Jaxjaxattaxx
Famous Tiktok influencer and Professional Dominatrix, Jax-Prince, joins the Pride lineup this year to lead an in-depth, informative, educational, and entertaining discussion on how to safely and legally break into the intricate world of Professional BDSM, and how Black women, femmes, & non-men (of all ages, genders, and body types) are thriving in a once white dominated space. Jax discussed their lived experiences, discussion about sex and race, and how we keep each other safe with community networking and support!
Energy Hygiene
Host – Katherine @QueenKathyPants
Katherine led a session on implementing energy practices into your self care routine. We learned about the energy centers and how to intentionally cleanse/clear them. We practiced different mindful techniques and ways to integrate intentional practice into your daily routine.
Meet Each Other
Host – Jesenia @NeuroSpicyNetworking
Jesenia demystifies the dirty word "networking" for neurodiverse folks. We started with low spoons intros and moved into a practice of radical self care by sharing one thing we are working on that we would love to connect with others about. We had lots of artist and gamers connecting to each other.
Family Fun Time
Host – Rome romehamner.com
It was a delightful time at Family Fun Time playing Zoom games led by Rome, doing a scavenger hunt, and answering Pride Trivia questions. Thanks to all the friends and family who participated!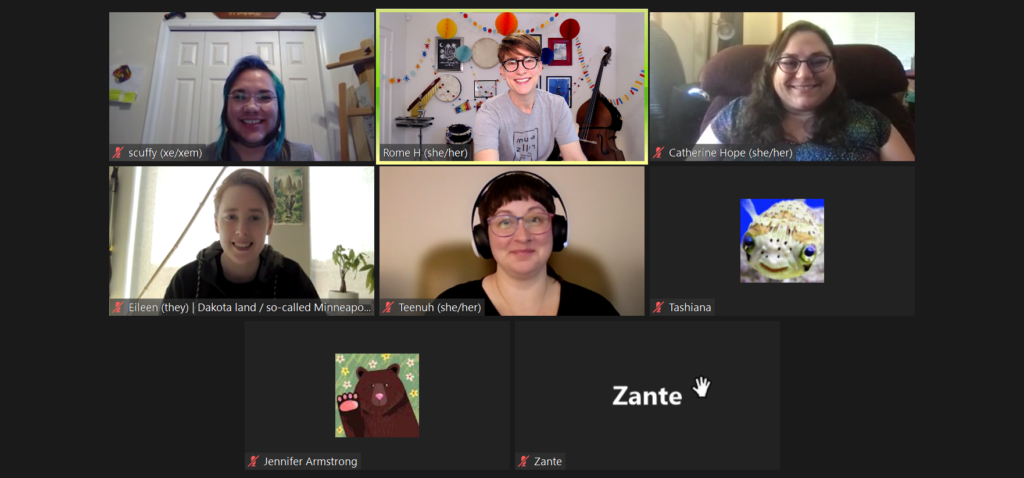 Storytelling for Kids
Host – Tina
Compliments were posted in the chat while books were shown to the crowd over camera. Overall positive experience for both the host and the viewers.
Books Read:
A Color of His Own – Leo Lionni
All Kinds of Kindness – Judy Carey Nevin
Antiracist Baby – Ibram X. Kendi
Don't Touch My Hair – Sharee Miller
The Paper Bag Princess – Robert Munsch
C is for Consent – Eleanor Morrison
And Tango Makes Three – Justin Richardson & Peter Parnell
What Matters Most – Emma Dodd
Red, A Crayon's Story – Michael Hall
Find Your Happy – Emily Coxhead
How We Say I Love You – Nicole Chen
Arts & Crafts
Host – Aliana @ArtfullyAlaina
The Arts & Crafts room featured creative co-working and discussion. Many people shared an assortment of work from painting a bird house to embroidery to drawing. If attendees didn't have a project when they joined, host Alaina went over how to do marker resist with washable markers and white crayons. At the end, the group shared what they had been working on.
Our Pride is Word Cloud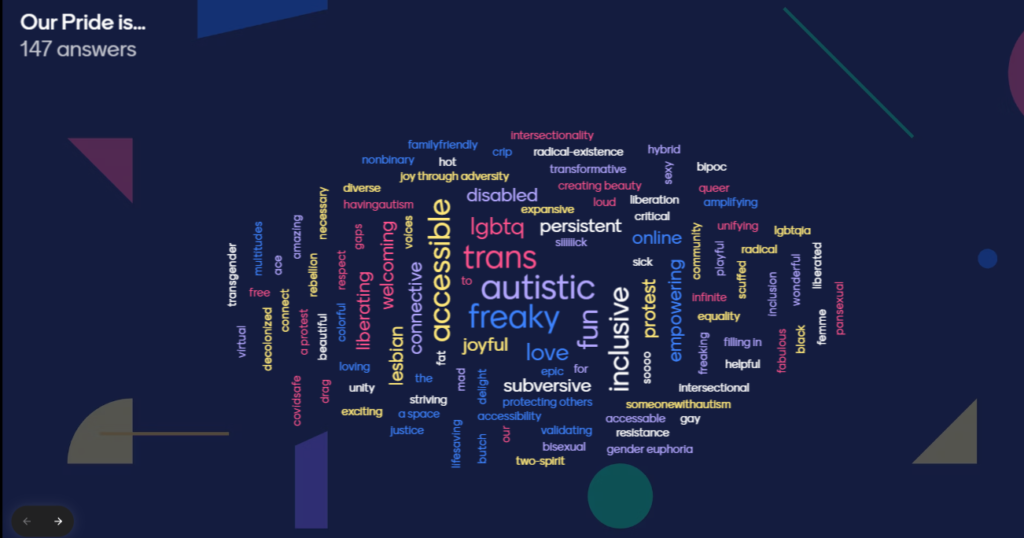 Building Inclusive Communities
Host Megan Rice shared about how to create a community, using her book club, Sexy Book Club as an example, and Jesenia @NeuroSpicyNetworking shared about inclusivity at One Free Community. The questions mostly touched on Communication within relationships.
Be Gay Do Communism
Host – VanillaBee join on discord
The event was attended by 10-15 people and VanillaBee explained about treatments of LGBTQ+ in socialism and capitalism, with a brief Q&A period. More discussions to be hosted in the One Free Community Server.
Queer History & GRWM
Host – Salem @SalemLovesEverybody This session included watching videos, and reading resources and reflecting on our amazing history. Check the webpage that includes all the resources discussed and shared in the room.

Dance Party
We closed the show with a final hour for personal connections and joyful celebration. Many folks joined us for quiet conversations room and a music and dance room in the zoom. DJ Rosez will be making us a special mix as a gift to all participants.
Virtual Pride Collage