Claudia Alick is attending these meetings remotely as art of her advisor duties with New England Foundation for the Arts National Theater Project. This gathering of NTP staff, Advisors, and the 2022 cohort of Creation and Touring project artists to discuss strategies for development and touring of new work; build connections; exchange knowledge and resources; and engage with presenters in the Midwest. read about the artists and the program below.

Anna Martine Whitehead: FORCE! an opera in three acts
Anonymous Ensemble: Llontop
CARPA: San Diego La Carpa De La Frontera, Theater promoting social justice and healing
Dan Froot & Company: Arms Around America
Dancing Earth: UNBOUND
Ebony Noelle Golden: In The Name Of The Mother Tree
Parris-Bailey Arts Inc: Yankee Bajan
Radical Evolution: Canciones (working title)
TeAda Productions: There is Nothing Micro about Micronesia
Team Sunshine Performance: THE GREAT AMERICAN GUNSHOW

Program Goals
Modeled on NEFA's National Dance Project, NTP not only provides funding but also animates an informed, interactive network of producing theaters, presenters, and ensembles that promote the funded projects and the development of the field as a whole. Projects are supported through Creation & Touring Grants, which fund creation and preparation for touring of devised projects and Presentation Grants, which are awarded to presenters by the artist and support up to 50% of the artistic fee for NTP projects.
NTP supports work that reflects the evolving environment for theater, including but not limited to projects that: Support the creation/development and U.S.* touring of new artist-led devised, ensemble theater works that demonstrate excellence in the artists' practice. NTP uses the following definitions in consideration of grant applications:
Ensemble: A group of two or more people committed to working together over time to develop a distinct practice and body of work.
Devised: A process of co-creation and joint discovery that prioritizes generative artists, which may include but does not prioritize playwrights, is iterative, and results in original work.
Support work that contributes to the cultural and aesthetic diversities of today's theater. NEFA values an equitable, diverse, and inclusive world, which we interpret as all people having fair access to the tools and resources they need to realize creative and community endeavors. We acknowledge structural inequities that have excluded individuals and communities from opportunity based on race, gender, disability, sexual orientation, class, age, language, culture, nation of origin, and geography, and strive to counter those inequities in our work.
Reflect meaningful partnerships with presenters, producers, and other organizations that are involved in the development, promotion, and/or touring of the new work.
Offer the potential to deepen engagement because of the work's relevance, originality, and/or timeliness.
Produce a viable plan for touring the supported work in multiple communities in the U.S. and its territories*.
*NEFA defines U.S. as all 50 of the United States, as well as Puerto Rico, Guam, Northern Mariana Islands, the U.S. Virgin Islands, and American Samoa.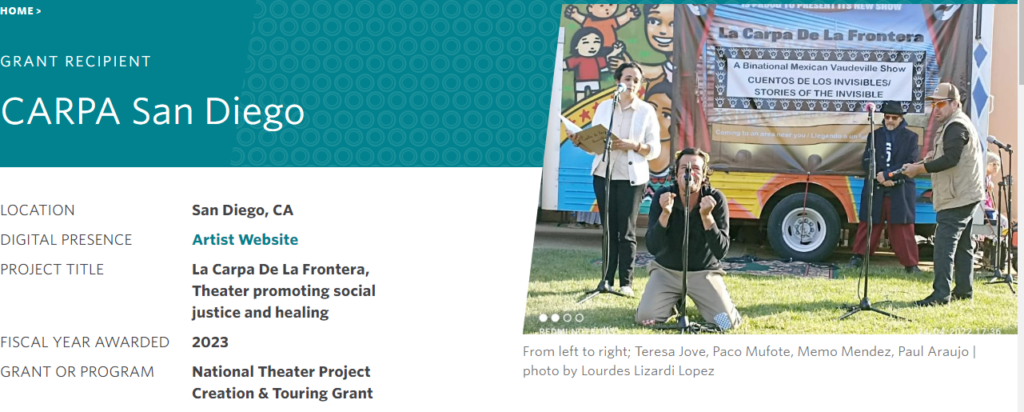 2023 NEFA NTP Advisors
The National Theater Project advisors provide critical guidance to applicants in proposal preparation and tour development. They also guide project selection and serve as consultants and ambassadors for the program. Advisors represent presenters, producing theaters, festivals, and theater artists. Selection of advisors takes into account geography, gender, areas of expertise, cultural and racial equity, and includes new and established leaders in the field. Learn more about how to become a program advisor.
Pia Agrawal, Executive Director, Staten Island Arts
Claudia Alick, Artistic Producer, Calling Up Justice
Jarvis Antonio Green, Founder & Producing Artistic Director, JAG Productions
Daniel Banks, Co-Founder/Co-Artistic Director, DNAWORKS
Nathalie Nia Faulk, Co-Director, Last Call Oral History Project
Edgar Miramontes, Deputy Executive Director & Curator, REDCAT (Roy and Enda Disney/CalArts Theater)
Ronee Penoi, Director of Artistic Programming, ArtsEmerson
Amrita Ramanan, Senior Cultural Strategist and Dramaturg, Play On Shakespeare
Mildred Ruiz-Sapp, Co-Founder/Co-Director, UNIVERSES
DeLanna Studi, Artistic Director, Native Voices, Autry (NVA)
Leslie Tamaribuchi, Cultural Organizer, Strategist
Torange Yeghiazarian, playwright/director

Funders
The National Theater Project is made possible with lead funding from the Mellon Foundation and additional support from the Doris Duke Foundation.